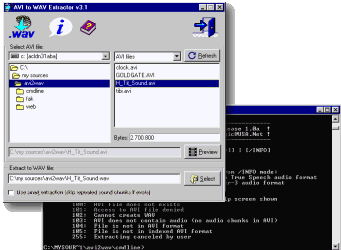 AVI2WAV Extractor
Extract sound from AVI animation and save it to a WAV file

---
.:|:. Version 3.5 .:|:. NEW FEATURES .:|:.

---

AVI to WAV is a simple program which can extract sound from AVI file (both types: video+audio or only audio AVI files) and save it into a WAV RIFF file in original sound format.

It creates file by extracting a sound chunks from AVI animation. File will be created with its original parameters and in original format.

This version of AVI to WAV can inform you about audio format of future WAV file - it can diverse large number of specific audio codecs registered within the WAVE registry and generaly used in AVI animations - from PCM, DSP True Speech, GSM 6.10 up to MPEG-Layer 3 (used in DivX AVIs) and more ...

Note that you don't need to have installed any of that codecs to extract sound from AVI because AVI to WAV does not use any codec to extract sound - it uses its own algorithm to do that so it can do the job even when other codec-oriented extractors fails.

For formats that cannot be detected, AVI to WAV will also create correct audio file using original format from AVI.

Before you extract sound, you can preview selected AVI file. Also, when AVI is selected, you can see short info about its size, video resolution, does it contains audio and in what format etc. ...

AVI to WAV supports extraction from one selected AVI, from several AVIs automatically (batch mode) and using simple batch scripts for batch extracting.

You can select "Normal" or "Smart" extraction (usefull for users who experience problems with repeated audio within resulting WAV).

Also, here is 32-bit comand line version that can be used from BATCH files or some other automatization process. Command line version has the same extracting features as corresponding GUI version but it can return ERRORLEVEL value depending on extraction state and depending on extracted audio format. Also, command line version has INFO mode where you can test AVI's audio type (format, bit resolution, audio type, number of audio chunks etc.). SMART extraction mode is also supported.


---


AVI to WAV version 3.5 + Command line version 1.3: AVIWAV35.ZIP size: 193 KB

---
©2000-2002 GrGa/m&g
Last update: 21.02.2002

Back to main page